Stop Whispering, Start Shouting
Leeds Art Gallery's collection includes paintings, sculpture, moving image and sound works. This display highlights the range of work acquired over the last decade.
One of the most recent acquisitions: Movie (2015) by Hilary Lloyd, was acquired for the collection in 2017. Shot on digital film, Movie includes sculptural elements, and has a distinctly painterly quality. Shown alongside other recent acquisitions, Lloyd's work illuminates the fruitful relationship between sculpture and painting, and digital and analogue modes of production.
To create the works on display, each of the artists have used a wide range of materials – from plywood to neon tubing, and from PVC to brass – in dynamic and unexpected ways. Predominantly abstract, many of the works focus on beauty and pleasure, and the sensuous nature of materials.
Whether sampling from formal modernism – like Eva Rothschild, Angela Bulloch and Martin Boyce – or using theatrical and poetic language, like Carl Plackman, each of the works involve and engage the viewer in new and innovative ways.
The title of this display – which comes from a work by Plackman – indicates our intention to 'stop whispering' and 'start shouting' about the remarkable breadth and ambition of Leeds Art Gallery's renowned Collection, which includes more than 8,000 works of art, and is regularly on loan to museums and galleries around the world.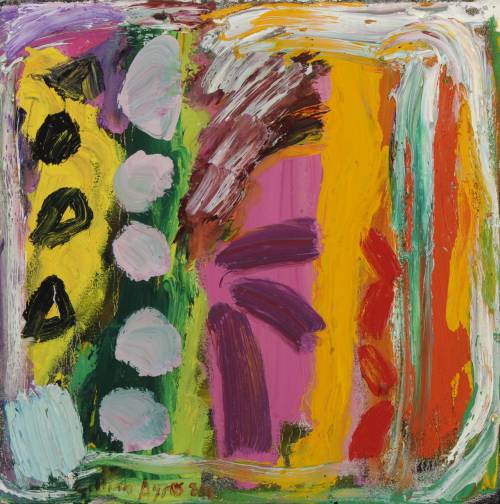 Gillian Ayres (b. 1930)
Babylon
1984
Oil on canvas
Presented by Dasha Shenkman through the Contemporary Art Society, 2013
LEEAG.2013.0170
Angela Bulloch (b.1966)
Extra Time 8:5
2006
1 DMX-module, 1 half Black Box module, waxed birchwood, printed aluminium panel, white glass, diffusion foil, assorted black cables, RGB-lighting system, DMX-controller
Purchased with the aid of a grant from the Art Fund, 2008
LEEAG.2008.0029
Martin Boyce (b.1967)
Phantoms and Fall
2008
Brass and plywood
Purchased with the aid of grants from The Art Fund and the MLA/V&A Purchase Grant Fund, 2009
LEEAG.2008.0150
Shelagh Cluett (1947-2007)
Untitled
1981
Mixed media
Presented by the Shelagh Cluett Trust, 2012
LEEAG.2012.0089

Becky Beasley (b.1975)
FIGURE (PART 3)
2008
Photographic print
Purchased with funding allocation from the Contemporary Art Society, 2013
LEEAG.2013.0243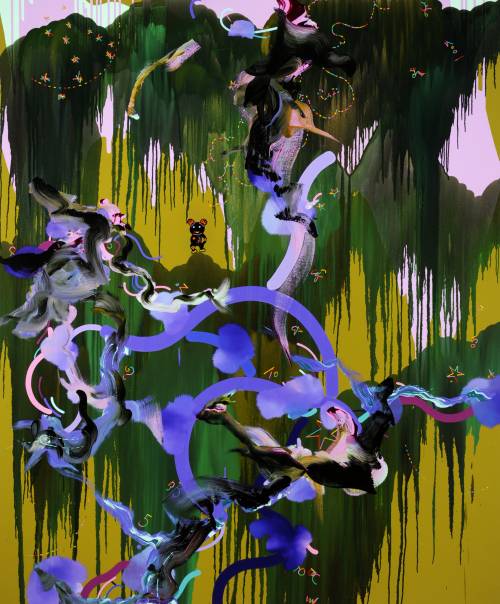 Fiona Rae (b.1963)
Present party for you
2012
Oil and acrylic paint on canvas
Presented by Denise Coates and Richard Smith, 2012
LEEAG.2012.0108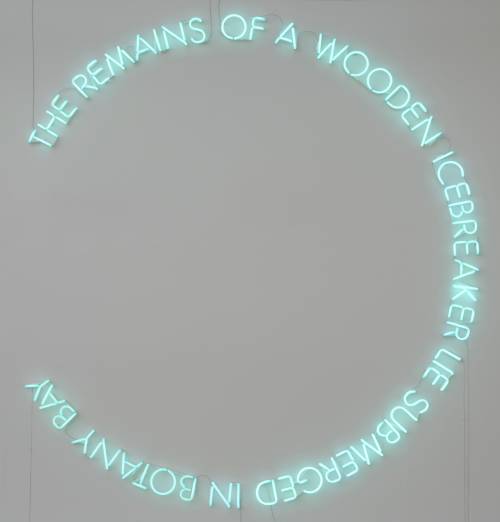 Roger Palmer (b.1946)
The Remains
2007
Neon tubing
Presented by the artist, 2012
LEEAG.2012.0232
Carl Plackman (1943-2004)
Stop Whispering, Start Shouting
2002
Mixed media including found objects and framed drawing
Presented by Jane Patton, 2015
LEEAG.2015.0039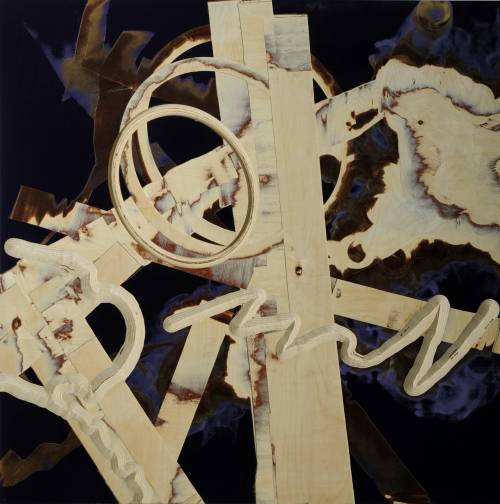 DJ Simpson (b.1966)
Common Field
2006
Formica on plywood
Purchased with funding from Bloomberg through the Contemporary Art Society, 2008
LEEAG.2008.0152
Zebedee Jones (b.1970)
Blue History
1993
Oil on linen
Presented by Oliver Prenn, 2012
LEEAG.2012.0090
Bruce McLean (b.1944)
I Want My Crown
2013
DVD edition of 5. Running time: 4' 24"
Purchased with funding from Leeds Museums and Galleries and The Art Fund, 2017
LEEAG.2017.0007
Anne Hardy (b.1970)
Configuration
2013
Fuji instant print
Purchased with the aid of a grant from the Henry Moore Institute Archive Fund, 2014